This is been working properly a recently install gantry crane in Sakana, S. Coop. Alsasua. This is a double girder 40t capacity gantry crane that will work with an old GH gantry crane.
It has also installed a small crane 5t capacity to work inside the workshop.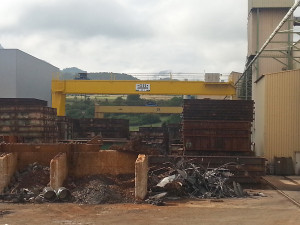 Grúas Recientemente instaladas en SAKANA, S. Coop.
Ya está en funcionamiento el pórtico recientemente montado en las instalaciones de Sakana S. Coop en Alsasua. Se trata de un pórtico birraíl de 40t de capacidad que trabajará conjuntamente con un viejo pórtico de GH Cranes & Components.
También se ha instalado un pequeña grúa puente de 5t de capacidad para trabajar en el interior de la nave.