Core+ Stability

GH Cranes & Components offers an effective material-handling system that ensures enhanced load stability at higher speeds.
Our innovative solution CORE+ Stability ensures
Efficient transportation of all types of hoists, cranes and trolleys.
Optimized handling of loads.
Smooth acceleration and minimal load sway.
Easy configuration and crane monitoring via a handy touch-screen system.
Seamless retrofitting of existing cranes as the CORE+ unit is fastened to the electrical panel door.
Why Choose GH's CORE+ Stability Solution?
Cutting-edge operations.
Higher speeds and improved accuracy.
Increased productivity and improved safety.
Enhanced safety with drastically reduced chances of damage and injury.
Hassle-free operations.
Automatic sway reduction.
HOW IT WORKS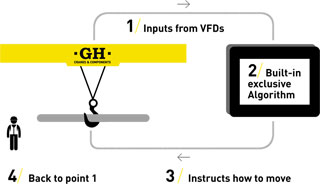 Inputs and commands are received from a variable frequency drive: The CORE+ Stability model continuously receives the following inputs from a Variable Frequency Drive (VFDs):

Operator commands for acceleration or deceleration
Speed parameters for hoist movements
Vertical positioning of hook derived by the hoisting motor encoder

CORE+ Stability exclusive built-in algorithms process the above input: The exclusive algorithm then determines the optimal acceleration or deceleration rates based on the above inputs.
Relevant commands are delivered: The powerful CORE+ Stability system directs the VFDs on how to establish the required movements.
LOOKING FOR A COMPANY AND SOLUTION THAT EXCEEDS YOUR EXPECTATIONS? Request a quote