Starting date: 06/11/2019
Finishing date: 09/11/2019
Celebration place: Exposalão,Centro de exposiciones, Batalha (Portugal)

Starting date: 11/11/2019
Finishing date: 13/11/2019
Celebration place: Buenos Aires - Hotel Hilton | Av. Macacha Güemes, 351 | Puerto Madero, Argentina
Industrias Electromecánicas GH, S.A.
Is a industrial business group (known today as GH CRANES & COMPONENTS), family owned business, which was founded more than 50 years ago.
The main activity is manufacturing hoists, overhead cranes and components for the cranes, although in its manufacturing range can be found gantry cranes, jib cranes, transfer carts, cantilever cranes and other types of lifting elements.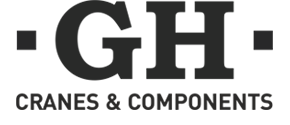 © GH CRANES & COMPONENTS
Sede Central
Apdo. 27 - B Salbatore
20200 Beasain (Gipuzkoa) Spain
Tel. +34 943 805 660
Fax. +34 943 888 721
Presence in
ON 5 CONTINENTS
115.000
sold cranes
800
Some of Our Customers