Overhead bridge cranes play a central role in your precast facility's productivity. The following are six key considerations when creating a long-term, productive relationship with your next bridge crane supplier.
1) Precast Industry Experience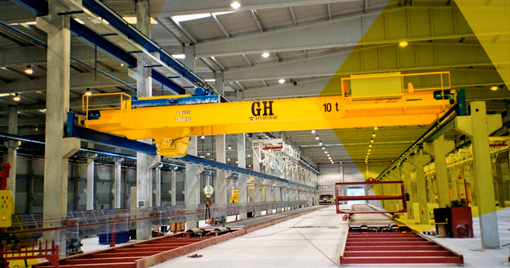 While each facility has unique requirements, from a buyer's perspective it's obviously most efficient to work with overhead crane manufacturers that are already familiar with special needs of the precast concrete industry. Specifically:
True Vertical Lift: Does the crane manufacturer understand the need to provide a bridge crane with "true vertical lift" to assure the proper demolding of many precast forms?
Multiple Lift Coordination: How will their overhead crane controls synchronize multiple hoists and/or cranes to enable the turning or flipping of precast loads when stripping off their molds? How will the load-summing capabilities of the cranes' hoists prevent accidental overloads?
Overcoming Mold Suction: Does the bridge crane OEM's engineers understand how to accommodate the suction that can occur just before the precast concrete breaks loose from its molds?
Optimizing The Crane's Duty Cycle: A typical precast plant might spend a few hours at the beginning of each day stripping molds — that is, operating their overhead crane at high end of their capacities. Then the bridge crane might not be used for many hours while the next molds are readied. Finally, the crane system might end the day working at much lighter capacities, with several hours of moving freshly mixed concrete into molds. Therefore, does your potential crane supplier recommend a bridge cranes with auxiliary, lower-capacity hoists for these lighter lifting tasks?
2) Long-Term Crane Performance In Precast Environments
In addition to the performance considerations just discussed, the precast industry can present a harsh environment for your overhead cranes. Both our precast concrete and stone handling experience has lead us to develop innovative dust-protection packages for our bridge cranes, which include fully enclosed motors and gasketed control boxes.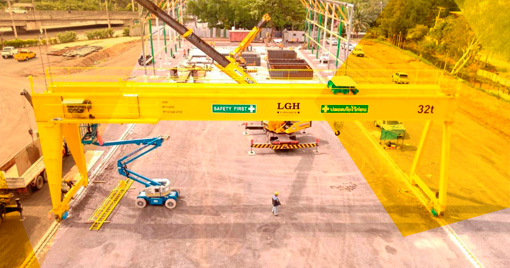 3) Turnkey Approach for Your Precast Plant
For maximum efficiency, many of our precast customers leverage our turnkey approach to overhead cranes:
Initial consultation regarding your operations and material handling needs.
On-site visit.
Bridge crane proposal, whenever possible using standardized designs to save time and money. Custom engineering is available when needed to address unique application needs.
When needed, building surveys by a civil or structural engineer and separate proposal for additional needed construction, such as reinforcing your foundation, ceiling beams, or building support columns before overhead crane installation.
Clear designation regarding who will run electricity from the disconnect to the crane: e.g., in-house electrician or crane installer's electrician.
Installers' on-site visit to determine the logistics of getting the bridge in place and to identify potential installation bottlenecks posed by your layout of your plant and its permanently installed machinery.
An in-depth presentation of the installers' needs so you can develop appropriate accommodations to your production.
A definitive installation schedule, including testing.
Crane operator and rigger training.
But all of that is just the beginning…
4) Preventative Maintenance Based on Actual Metrics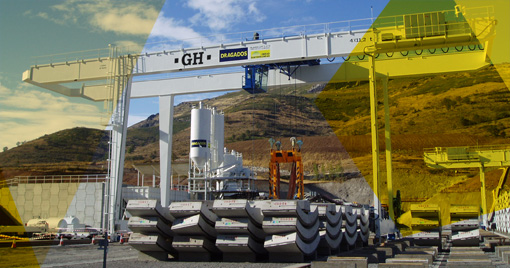 GH Crane's COREBOX is a datalogger that collects data and operating parameters from different crane devices, with the ability to be connected to the Cloud. Customers can then log into the GH Portal to review crane operational statistics and make appropriate preventative maintenance decisions. Plus, GH support staff can, if needed, remotely control the crane, facilitating troubleshooting.
In addition, GH services can include crane inspections, corrective maintenance, and crane renovations, upgrades and retrofits.
And regarding spare parts, we like to note that have customers in 70 countries, supported by our 6 Americas facilities, 7 European facilities, and 4 Asian facilities.
5) Lower Total Lifecycle Costs
We take the long view of bridge crane ownership, starting with a thorough understanding of your current and proposed material handling needs, then sizing your cranes and hoists appropriately. With our state-of-the-art data collection, we empower preventative maintenance to maximize your bridge crane uptime and productivity. We help you avoid the premature obsolescence of crane components by vertically integrating all of our manufacturing.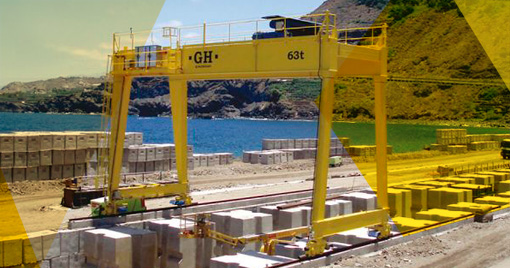 But don't take our word for it: check out our list of representative bridge crane customers at the bottom of our home page. Note the number of customers in process-critical industries, where the downtime cost of just a few hours can exceed the cost of a crane. We are proud to serve the needs of these process-critical customers.
6) Crane Inspection, Testing, Training & Preventative Maintenance
In addition to our overhead cranes, GH Cranes has extensive experience in large, outdoor gantry cranes and rubber tire gantry cranes for precast products. For many of these applications, typically located in large stocking and shipping yards, the travel speed of the GH gantry crane is a key performance factor.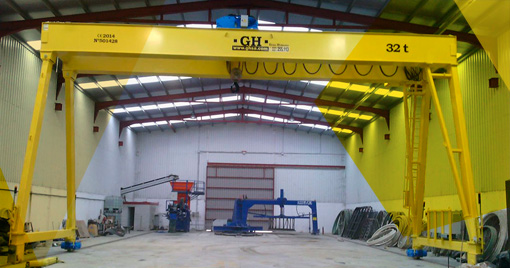 You have a few options when it comes to maintaining your new bridge crane. Virtually all companies with a maintenance department opt to have their personnel trained by the OEM in basic crane maintenance: adjustments, simple replacements and basic maintenance, but remember that the crane inspector should be trained accordingly.
So, whether your precast plant is looking to retrofit an existing bridge crane, replace it entirely, or expand into new indoor and outdoor facilities, carefully consider the resources and thoroughness you want your next crane provider to bring to your business.
Is your precast plant ready for a crane-based productivity boost? Contact our engineers at 972-563-8333 or ghcranesusa@ghcranes.com.