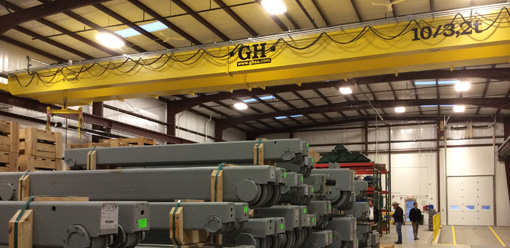 The coronavirus pandemic is impacting heavy manufacturing and industrial operations in many ways. From elevated business risk and putting business continuity plans in jeopardy to increased safety risks with staff being required to do more with fewer resources, heavy manufacturers are faced with a new reality.
And yet the coronavirus also presents unique opportunities for manufacturers to cost-effectively maintain and enhance operations. Here are five ways that you can improve your operation during the coronavirus pandemic:

1. Inspect your cranes
Since your operation is likely operating in limited production, now can be an effective time to focus on safety and inspect your cranes. Our Inspection and Maintenance Programs are customized to all makes of cranes and hoists while exceeding OSHA Standards.

2. Perform planned repairs to your cranes
If you have been planning to repair an overhead crane, gantry crane, jib crane, hoist or winch, now can be an efficient time to consider doing this. While your production is slowed and your shop floor is less busy and crowded, GH Cranes & Components trained technicians can help repair your lifting equipment.

3. Upgrade your cranes and hoists
For certain organizations, capital investment for new large purchases may be constrained. To overcome, consider extending your existing equipment performance with upgrades. GH Cranes & Components offers modernization services – for all crane brands. We are ready around the clock to upgrade your cranes and hoists.

4. Plan and design your next crane project
Are you looking to reconfigure your plant layout or work processes including how to optimize your material handling? Are you considering expanding your facility or looking for a way to increase productivity? Do you need a compact crane that fits into the limited vertical space in your facility? GH Cranes & Components is standing by with a complete team of engineers and designers, ready to turn your plans into reality.

5. Ensure availability and reliability of your supply chain
Every order needs to maximize margins and profitability – the last thing you need during the economic slowdown caused by the coronavirus is unplanned downtime. That is why now is the perfect time to make sure you have the spare parts and accessories you need to stay up and running. GH Cranes & Components offers OEM spare parts, performance spare parts and equivalent crane parts.
Conclusion
Although your current operational situation may be negatively impacted, you may now have an opportunity for your firm to make longer-term investments in your business while minimizing production disturbance.
Now can be an efficient and safe time to inspect your cranes, perform planned repairs, upgrade your cranes and hoists, design your next crane project, and ensure the reliability of your supply chain.
If you need help with any of these vital projects, Contact GH Cranes & Components today.